Size
1
2
3
4
5
6
Weight
2-5 kgs
4-11 lbs
4-8 kgs
9-18 lbs
6-10 kgs
13-22 lbs
9-14 kgs
20-31 lbs
11+ kgs
24+ lbs
14+ kgs
31+ lbs
Approx. age

up to 2

months

2-6
months
3-9
months
6-18
months
18+
months
24+
months
Average
nappies
per day
8-10
8
6
6
5
5
If your head is full of questions at this stage, you are not alone. 'What size nappies do newborns need?', 'How long will size 1 nappies last' and 'How many size 1 nappies do I need?' are all amongst the questions we get asked the most.
Size 1 nappies are designed for newborns and will fit most babies for the first few weeks of their lives, up to around 2 months. If you are wondering how many size 1 nappies you need, we recommend you plan for around 8-10 per day. If you are in the stages of getting ready for the big day, have a look at our blog for a free printable checklist on what else to pack into your hospital bag and plenty more advice.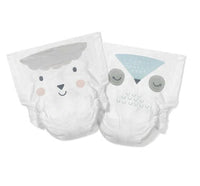 Kit & Kin is proud to have spent years creating the most sustainable nappy you can buy. You can trust that your baby will be wearing the most comfortable, most stylish and the greenest nappy on the market. Our size 1 comes with umbilical cord cut outs to ensure that the nappy does not sit on top of your little one's umbilical stump. You will also notice the unique lamb and owl designs are perfect for baby's first cute snaps.
Our ultra slimline design has won 26 industry awards, which means you can be extra sure it's the right choice for your little one.
Remember that our age and weight guide should be used as just that, a guide. All babies are different so it might be that your little one needs to size up sooner than you might think. We have a five point guide to the signs to look out for when you think your baby's nappy size might be wrong.
Buy our size 1 nappies